Helping You Maintain A Healthy Weight
Have you undergone weight loss surgery, yet you aren't seeing the results you had hoped to see? If so, Dr. Fernando Garcia Govea can help. When medical weight loss treatments have failed, Dr. Garcia Govea and his team of experienced specialists, will work with you to find a different weight loss method that works for you. Bariatric surgery revision at the advanced Tijuana surgical center helps patients to lose weight while improving their health. Contact us to learn more about our low-cost bariatric revision surgeries.
Bariatric surgery revision is an ideal treatment for patients who may or may not have experienced outstanding results following their weight loss surgeries.
About Bariatric Surgery Revision
In most cases, patients who undergo surgery for the treatment of obesity obtain superb weight loss results. However, many obese individuals face unsatisfying results in the months following their bariatric surgery and some patients, over time, even regain weight or encounter medical complications. Bariatric surgery revision is an ideal treatment for patients who may or may not have experienced outstanding results following their weight loss surgeries. Dr. Garcia Govea can review your health history and evaluate your medical needs and recommend a weight loss method that will work best for your case.
When suggesting a more optimal form of treatment, our bariatric team will educate you on what to expect before, during and after treatment, benefits and risks associated with the procedure, and answer any questions you may have regarding surgery. Through thorough education you will be able to make a more informed, confident decision regarding the path you want to take in achieving your weight loss goals.
Bariatric Revision Surgery
Bariatric Mexico Surgery provides bariatric revision surgery for patients whose surgery has not been successful or has failed to help a patient maintain long-term weight loss. Dr. Garcia Govea commonly revises the LAP-BAND® Surgery, which can be revised with gastric bypass or gastric sleeve. They can also revise a gastric sleeve with gastric bypass surgery.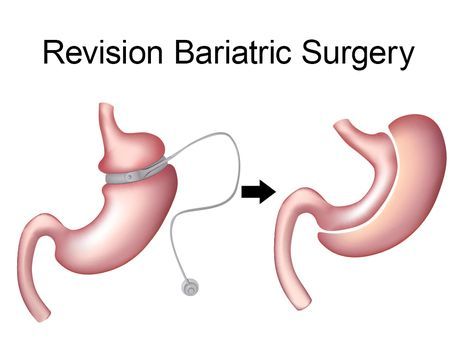 The Need for Revision
LAP-BAND® Surgery Revision
In some cases, band slippage has resulted in patients needing revision surgery to replace or reposition the device. Often, slippage is detected when a patient discovers that they are failing to lose weight following surgery or they begin gaining weight in the months and years following surgery.
Infection may occur in your stomach if the band erodes. When erosion takes place, a hole within the lining of your stomach is created and exposed. To correct the complication and further your weight loss journey, Dr. Garcia Govea can perform other bariatric surgery procedures including gastric sleeve surgery or gastric bypass surgery to mend the hole and put your health back on track. Both bariatric procedures can be performed, as well, if you fail to see the results you had expected when undergoing LAP-BAND® surgery.
Gastric Sleeve Revision
Even though gastric sleeve surgery is one of the most effective forms of weight loss treatments, the method may require bariatric surgery revision at our Tijuana clinic if the stomach stretches. Over time, your stomach may expand, and it will need to be "re-sleeved" to prevent future weight gain. Some patients may not see desirable results following gastric sleeve surgery and could benefit from a different form of bariatric treatment, such as gastric bypass surgery.
Gastric Bypass Surgery Revision
The stretching of your stomach may require reshaping and trimming in order for you to continue to lose weight. Through this form of bariatric surgery revision at our Tijuana hospital, the smaller, upper portion of your stomach can be restored to the original gastric bypass anatomy. A re-sized, smaller pouch will help you to once again lose excess weight and keep it off.
Contact Dr. Garcia Govea Today!
Throughout every step of your bariatric surgery revision, our Tijuana specialists will be there to support you. We understand how discouraging it is to undergo surgical weight loss treatment only for it to fail. We are here to offer you hope with a safe, successful second surgery! Contact Dr. Garcia Govea today to schedule your consultation at our world-class facility today!