Benefits of 'Mini' Gastric Bypass Surgery
Gastric bypass surgery is one of the most common forms of all bariatric surgeries. It is extremely effective in helping patients who cannot lose weight through medications, and/or diet and exercise. Today, thanks to the development of laparoscopic surgery, it is possible to achieve all of the benefits of a conventional gastric bypass in a less invasive and lower risk procedure, a mini gastric bypass.
What is a Mini Gastric Bypass?
A mini gastric bypass works in exactly the same way as a regular gastric bypass in that it restricts the amount of food that can be eaten at any given time, and modifies the gut hormones that are involved in regulating our appetite. The top of the stomach is stapled to form a thin tube, which becomes the patient's new, smaller stomach. This is then sewn to a loop of the small intestine, which bypasses the duodenum and some of the bowel. The remainder of the stomach and upper part of the small intestine remain in the body, but have no function.

However, unlike a conventional bariatric surgery, the mini bypass is performed laparoscopically. This means that several small incisions (usually between 5 and 12mm in length) are made for the insertion of keyhole instruments, rather than opening up access to the stomach through a large incision. The surgery is then performed using these tiny instruments that have cameras attached to them, feeding back to a screen in the operating theater and enabling your surgeon to see what he or she is doing.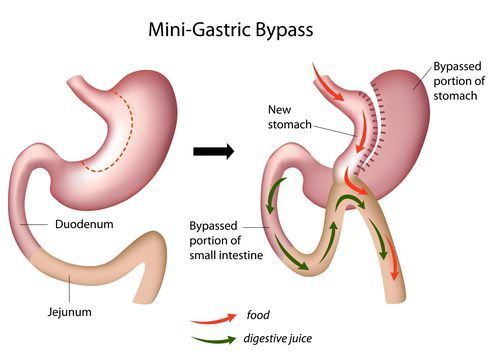 What are the Benefits of a Mini Gastric Bypass?
Obviously, the main benefit of any bariatric procedure is significant weight loss. Not only can this improve the way you look and how you feel about yourself, but it can also have a seriously positive effect on your health and wellbeing.

Many diseases and chronic conditions are linked to being overweight including type 2 diabetes, high blood pressure, heart disease, sleep apnea, osteoarthritis and fertility problems. Many patients who undergo weight loss surgery find that there is a prominent improvement in their condition and in some cases, it may even disappear completely.
Nevertheless, there are some other advantages to choosing a mini gastric bypass, and these include:
No need for ongoing adjustments, as seen in Lap Band surgery.
The procedure is completely reversible, in case the patient does not recover well or cannot cope with the changes required after surgery.
Smaller incisions mean less scarring.
Lower risk of complications during and after surgery as a result of the smaller wound.
Recovery from laparoscopic surgery is also significantly faster and there is less need for pain relief in the days after the procedure.
The procedure can be performed under a general anesthetic and typically takes less than an hour.
Since the procedure is less complicated, it is usually less expensive than a full gastric bypass.
Am I a Good Candidate for a Mini Gastric Bypass?
If you have a BMI of over 40, or if your BMI is over 35 and you are suffering from health conditions directly related to your weight, then you may be a suitable candidate for a mini gastric bypass.

​​​​​​​To assess your candidacy fully, you will be asked to attend a consultation appointment, where comprehensive information about your health and wellbeing will be used to make a recommendation as to whether a mini gastric bypass is likely to be the most effective form of bariatric surgery for you.
If you are struggling to lose weight through diet and exercise and are interested in finding out more about mini gastric bypass surgery, we would be delighted to help you. Please contact our professional and knowledgeable bariatric team by calling 844-669-5400 today.