Lead a Healthier Lifestyle with Gastric Bypass Surgery
Has your weight loss journey been one of defeat and discouragement? If so, you are not alone. Hundreds of thousands of people around the world struggle to lose weight and keep it off. If you are obese, and diet and exercise haven't proven to be effective in helping you lose weight, then gastric bypass surgery may be right for you. Gastric bypass surgery is one of the most common forms of bariatric surgery in Tijuana and the rest of the world because of its safety, efficacy, and impressive success rate. Our highly trained weight management professionals have years of experience helping patients regain their confidence, restore their health, and lead a more active lifestyle with a low-cost gastric bypass surgery procedure. Let certified and trusted bariatric surgeon Dr. Fernando Garcia Govea help you rediscover your potential by helping you shed pounds and maintain a healthy weight.
Gastric Bypass Surgery
Dr. Fernando Garcia Govea is a skilled bariatric surgeon who has performed many gastric bypass surgeries. He believes in the success of this treatment for long-term weight loss. Also known as Roux-en-Y, this long-term weight loss treatment requires your stomach to be divided into two pouches, an upper pouch and a lower pouch. The Gastric Bypass surgery has both a restrictive and malabsorptive component to treatment. The small upper pouch is attached to a lower portion of your small intestine, diminishing nutritional and caloric intake as your food breaks down and is digested.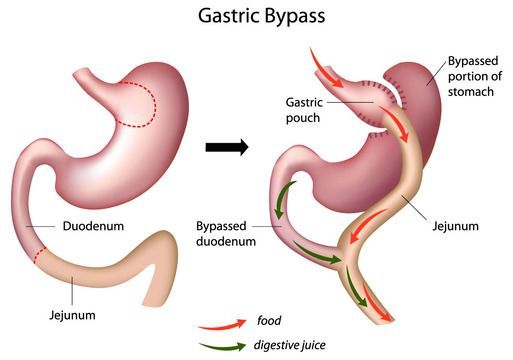 About Gastric Bypass Surgery
Roux-en-Y gastric bypass surgery is one of the most successful bariatric surgery procedures. It works by dividing the stomach into two separate pouches, an upper pouch and lower pouch. The smaller pouch is then connected to the lower portion of the small intestine. The small intestine is re-arranged to connect to both pouches. The amount of food you are able to consume is restricted due to the size of the newly created stomach pouch.
By limiting your nutritional and caloric intake, you can lose more weight within a shorter amount of time. On average, most patients who choose to undergo gastric bypass surgery at our Tijuana practice lose 10 to 20 pounds every month for a year. This form of bariatric surgery poses a lower complication rate than other weight loss surgical treatments; however, it is not reversible.
What to Expect
After the laparoscopic small incisions, your surgeon will begin treatment by making an incision across the top of your stomach. This incision divides your stomach into two parts, both of which are sealed off from one another. The newly created, small upper pouch is able to hold less than one cup of food. An incision is then created in the lower portion of your small intestine and the upper pouch is connected to it.
The resizing of your stomach and rerouting of your intestine is designed to make you consume smaller amounts of food and digest that food more quickly. Because the food will enter a lower portion of your bowels, much of the food's nutritional and caloric elements will not be processed or broken down. Gastric bypass surgery allows obese patients to drop weight faster and maintain healthy eating habits. As with every type of weight loss surgery we perform, gastric bypass surgery only gives you the tools to lose weight; it is up to you to dedicate yourself to leading a healthier lifestyle. After the initial recovery period, and a commitment to healthy lifestyle changes, patients can expect to achieve lasting, positive results.
Type 2 diabetes is reversed in up to 90% of patients usually leading to a normal blood sugar without medication, sometimes within days of surgery
Advantages of the Gastric Bypass
Hyperlipidemia is corrected in over 70% of patients

Essential hypertension is relieved in over 70% of patients and medication requirements are usually reduced in the remainder

Obstructive sleep apnea is markedly improved with weight loss and bariatric surgery may be curative for sleep apnea

Snoring also improves in most patients

Type 2 diabetes is reversed in up to 90% of patients usually leading to a normal blood sugar without medication, sometimes within days of surgery

Gastroesophageal reflux disease is relieved in almost all patients

Venous thromboembolic disease signs such as leg swelling are typically alleviated

Lower back pain and joint pain are typically relieved or improved in nearly all patients

80-85% off the excess weight is achieved with this procedure

The overall quality of life for patients improves greatly
Learn More about Your Weight Loss Options at Bariatric Mexico Surgery
Depending on your specific needs and lifestyle, Dr. Fernando Garcia Govea, with the help of Bariatric Mexico Surgery weight loss specialist, will help you decided the weight loss treatment most likely to work best for you and your lifestyle and make recommendations based on the health history you provide. Contact our team of weight loss specialists today to learn more about the affordable, safe, and effective weight loss treatment options, including cost-effective gastric bypass surgery.