Fewer Incisions, Same Great Results with Mini Gastric Bypass Surgery
Mini gastric bypass surgery at Bariatric Mexico Surgery is laparoscopic weight loss treatment that is potentially ideal for those who struggle to shed pounds and control their appetite. With this procedure you will continue to see improved results with each passing day! Contact us to find out more about our safe and low-cost mini gastric bypass.
Mini Gastric Bypass Surgery
Mini gastric bypass surgery is a modified version of gastric bypass surgery. At Bariatric Mexico Surgery , Dr. Fernando Garcia Govea creates a small pouch in the upper part of the stomach, which is connected with the bowels to reduce absorption of nutrients. During mini gastric bypass, Dr. Garcia Govea uses laparoscopic tools so only a few incisions have to be made for surgery.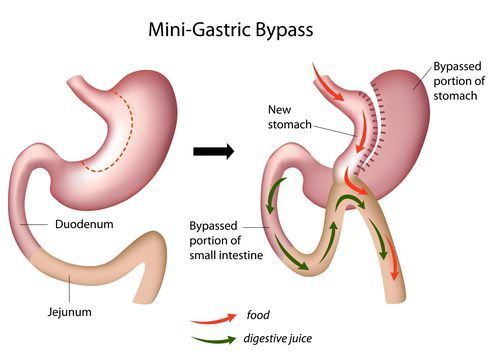 About Mini Gastric Bypass Surgery
This weight loss procedure requires that your stomach be divided into two pouches, an upper pouch and lower pouch. The lower portion of your small intestine is fused to the smaller upper pouch. The creation of a smaller stomach pouch, which holds less than a cup of food, will help you get fuller quicker and feel fuller longer, and you will ultimately lose weight faster. By surgically resecting the small, upper pouch to the lower portion of your bowels, food will not be completely broken down, absorbed, or processed within your system prior to exiting your body.
The revolutionary procedure is performed laparoscopically, meaning 4-5 incisions would be performed on your abdomen. The experienced and trusted bariatric surgeon Dr. Fernando Garcia Govea utilizes only the safest, most cutting-edge technology to perform all surgical weight loss treatments.
About 80% of excess weight loss is achieved with this procedure.
Education Comes First
Dr. Garcia Govea educates patients on the complications, however uncommon, associated with weight loss surgery as well as the risks associated with leading an unhealthy, obese lifestyle. Not only does obesity make you feel lethargic and affect your overall emotional, physical, and mental health, but it can cause irreversible damage to you your bones, joints, and muscles. Our bariatric surgery team is committed to equipping you with the tools you need to successfully lead a healthier lifestyle and achieve a more positive state of mind.
Before approving patients for surgery, the dedicated team at Bariatric Mexico Surgery ​​​​​​​ performs a comprehensive analysis of the patients medical history and recommends appropriate surgeries based on the goals and objectives of the patient. Patients need to be aware that mini-gastric bypass surgery at our Tijuana facility will only do so much. A patient must be dedicated to avoiding harmful habits, practicing a healthy lifestyle, and eating and drinking nutritious foods that boost their weight loss results.
Gastric Bypass versus Mini Gastric Bypass
Laparoscopic Mini gastric bypass surgery is easier, safer and takes less time to perform than traditional laparoscopic Roux-en-Y gastric bypass surgery. As its name suggests, the mini procedure is a simplified, less complicated form of the traditional weight loss method. The simplified procedure is as successful as other surgical treatments in terms of its ability to help you lose weight, keep it off, and vastly improve your quality of life. The recovery time associated with mini gastric bypass surgery is about the same as the traditional gastric bypass.
Advantages of the Mini Gastric Bypass
Due to the simplicity of its construction, the Mini Gastric Bypass can reduce the risk of post-surgical complications and shorter

Up to an 80% loss of excess weight can be expected with this procedure

Patients can enjoy sustained weight loss and a more active and fit lifes
Contact Us Today
To learn more about the weight loss treatment options that we offer at our Tijuana hospital, including mini gastric bypass surgery, contact Dr. Fernando Garcia Govea today. Our team is eager to help you start your weight loss journey and encourage you every step of the way.