Testimonials for Bariatric Mexico Surgery℠
Read What Our Clients Have to Say About Us
"As a physician and patient this surgery has changed my quality of life and self-esteem. I am full of energy and could have not been happier with my results."
Dr. Paola Velazco.
Doctor Bariatric Mexico Surgery
"I am 4 months post op and 49 pounds down. I am so thankful for y'all making the surgery financially obtainable for me. You have changed my life. I'm not done but so on my way!!! Thank you so much!"
"Dr. Fernando Garcia, Once again I must THANK YOU for the opportunity at life you have provided me. I was so near death, I had recently been hospitalized with something they called an infection, my legs had swollen to 24 inches around, I could barely breathe…now today I am a 270lb man, I no longer have sleep apnea, I can tie my own shoes, no more slip on shoes, I can buy clothes at the same place everyone else does…"
Read Our Client Success Stories
Read Laura´s Gastric Sleeve Surgery Story
I used to be slim and back then I thought "I am so fat" Boy what I wouldn't give to have a talk with that silly girl.
Let's go back in history some. My mom had gastric bypass 10 years ago and lost around 125 lbs. I remember wanting to have it done so bad after she did however my insurance didn't pay for it and I had just had my son. Fast forward 9 1/2 years, my daughter models and we were on a plane to a shoot in CA and I was looking at the Delta Magazine and there it was …. Medical treatment out of the country!! Why hadn't I heard about this before?!?! Once we were home I looked up all I could on this option. Researched many doctors and information about Dr. Garcia, within two months I was on a plane back to CA with my mom to have my dream surgery!!!!!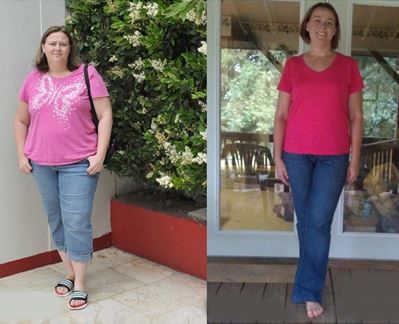 May 17, 2012…. I got up so very excited! My baby was graduating Pre-K then I was leaving for the airport! We arrived in San Diego at 6 PM and the driver was on his way to get us. I was worried that I would be nervous and scared but I wasn't. I was just so happy that the time was finally here. . He was so nice and smelled wonderful lol ! I remember my mom telling him that and he laughed and was happy that after the long day he had had he was still smelling good! I had never been to Mexico and when we crossed the border it was so neat to see everything. The driver answered any questions we had on the ride to the Marriott. Once we arrived at the Marriott we was treated like royalty! We didn't lift anything, they did it all. It was so wonderful. The beds were HEAVEN!! Since I arrived late there was a note from the onsite coordinator telling me what time to be down stairs in the morning. We got settled in and went to bed.
May 18,2012…. I was downstairs by 9 am for the ride to the hospital. Once I arrived at the hospital we filled out some forms and did labs. After I was settled in my room several drs came in to talk to me and the nurse did all the prep work. Dr. Garcia came in to see if I had any questions or needed anything for my nerves. I was calm as could be so he suggested since my surgery was scheduled last that I take a nap. When it was my time to go the wheeled me back and the anesthesiology asked if I was nervous. I said "Nope, Let's get this show on the road!" When I woke up they asked me to slide onto the bed in my room. I remember walking a lot and sleeping a lot. If I wasn't sleeping I was walking. I have to say that I have never been treated so good. It was an amazing experience and I would do it again!!!Oct. 6, 2012….As I sit here writing this I think about all that has change in 4 1/2 short months. I am the assistant cheerleading coach for my daughters group! I can walk 2 miles and still breath! I can run and play with my kids! I got my thyroid meds lowered! I am healthy! I am HAPPY!!! I have lost 86.2 lbs so far and I am still going.
I have 30.5 lbs to be at the goal my Dr. set for me. It is amazing and crazy all in the same! I thank Dr. Garcia and his staff for all they did for me!! You all gave me the life I had tried so hard to get back! Thank you so much!!!
If anyone has question please feel free to email me. [email protected]
Much Love, Laura
Call Today!
Read About Jeff
Dr. Fernando Garcia, Once again I must THANK YOU for the opportunity at life you have provided me. I was so near death, not too long ago before my bariatric surgery, I had been hospitalized for an infection, my legs had swollen to 24 inches around, I could barely breathe, My personal life and hygiene were at an all-time low.
My friends and family were watching me die, I weighed 250, then 275, then 300. 300 became 350, 350 became 400, 400 became 450, then I hit an all-time high (which really was an all-time low 489 POUNDS, it was then I made the trip to Tijuana, and interviewed 6 different Doctors, before making the decision to trust you to do my surgery.
You met with me, you assured me of your care, you made true everything you promised and more. Now today I am a 270lb man, I no longer have sleep apnea, I can tie my own shoes, no more slip on shoes, I can buy clothes at the same place everyone else does, I don't have to buy two airline seats to fly, I DON'T FALL ASLEEP AT STOP SIGNS AND TURN SIGNALS, I am at this time a 42 waist, I was a 58. My shirt size was 6X, I now wear a 2X.
I owe all of this to the lifestyle changes that were afforded to me by you and your wonderful staff. It has been two and a half years since my surgery, so much as changed. I still follow up with you and your staff whenever necessary. I love to read the testimonies of your other patients and the changes in their lives.
I have had the fortunate pleasure of bringing new patients to you, at this time the first lady who came to you just a year ago has gone from a size 18 to a size 4, another lady who came to you just 7 months ago has already obtained her goal weight and lost 98 lbs.
Another great thing is visiting your facility, the last time I was there I shook hands with a man who was having the procedure that day, he was near 500 pounds, I was able to share my story and the two of us shed tears together, I know where ever he is, he is a happy man and his life has also been changed by you and the wonderful care of you and your employees.
I am often approached and asked "are you Jeff '?, Yes I am! "What did you do"? And I explain the trip to Tijuana. I have to say that in the research I did, in an American Hospital in any town, anywhere when you walk in that door there are infections and diseases that we never want to but often in the states leave these establishment with.
In Tijuana, Bariatric surgery is all you do, there is a less than 1% infection rate and that covers your entire services. I also was told you had a 0% mortality rate. The Hotel you provide is that of the Highest American Standards, YOUR STAFF TREATS US BETTER BECAUSE YOU ARE FOCUSED ON EACH OF US AS INDIVIDUALS.
The trip to Mexico from San Diego is a very smooth and painless transition. In researching procedures there, I was offered surgery next to a hardware store, next to Office Depot, met by one person in a parking lot, and approached by a gentleman who claimed he was a doctor and would do the procedure in his garage and put me up in a hotel and check in on me.
It was not a hard decision to choose you and your Hospital and Staff, and everything we discussed happened just as you said it would. Once again Thank You, you saved my life.
In closing, if there is ever anyone who needs to talk, who needs to know how great life is after this procedure, I would be glad to speak with them. I am so very PROUD of the work you do and the skillful way your staff works on each patient. I only hope that everyone who fights with the obesity problem would make the choice to change their lifestyle and visit you for the chance to be happy with their lives once again. I look forward to our next visit. Jeff P. Gastric Sleeve Patient